The firemen of Saint-Petersburg celebrated the anniversary of the
24 Jun firefighters of St. Petersburg celebrated the birthday of their unit. For the celebration rescuers chose Manezhnaya square. In the heart of the city's brave firefighters have organized a huge event with a performance of drummers, orchestra and pop stars, competitions and award winners.
The first team of firefighters appeared in St. Petersburg in 1803. The decree about it was issued by the Emperor Alexander I, who paid great attention to the problem of fires devastating the city. Since then, it took 214 years, during which firefighters protected the city and its inhabitants from dangerous elements. Today the profession of fire enjoys no less esteem than 214 years ago. This year, traditionally, is about the exploits of firefighters have learned hundreds of guests, and the best representatives of their profession received awards.
Everyone was able to enjoy the holiday atmosphere and the porridge prepared on a field kitchen. The youngest guests of the event waiting for the "Town test". Here the young heroes tried on clothes and hats and even rescuers extinguished a conditional fire by using a fire hose. The attention of all those present without exception, was attracted by the exhibition of special equipment and fire weapons.
The highlight of the celebration was velokvest, which was held at the "fireman" places of the Central part of the city. During this visit, the participants learned many new and interesting stories from the life of the Northern capital of Russia. Guides introduced the participants to the places where it was raging, devastating fires and tell what effect these horrific events have had on the development of the city. Guests got to know, what does the legendary Dmitri Shostakovich have to do with civil defense copper helmet, and what words added to the dictionary of the Russian language, thanks to the Governor-General of St. Petersburg. The length of the route was 5 km.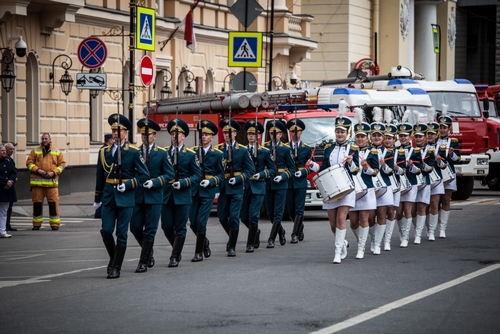 Date of publication:
27.06.2017
Contact information
+7 (495) 849-24-74
Moscow, Shchelkovskoe shosse, 5, p. 1, office 622