In Moscow started the competition "School safety"
July 25, took place the opening of the final stage of the competition "School safety". The ceremony was attended by Vladimir Stepanov, the incumbent Deputy Minister of the Ministry of emergency situations. The guest of honour noted the symbolism of the choice of location for the open all-Russian competition, which was held at the memorial opened in honor of the victory in the great Patriotic war.
In Moscow met the finalists of the regional competitions that were held throughout Russia within 3 months. Participants of the qualifying rounds was more than two thousand children. In the final competition takes участие18 teams. The composition of each team consists of 10 participants. Children will compete for the title of best rescue team for 1 week. The organizers have prepared a complex program. Children will go through many trials. Among them – participating in a fire relay race, passing along the winding paths of the route of survival, search and rescue activities. In addition, they have to establish a way of life. The venue of most of the stages of the competition was the center of Krasnaya Pakhra.
The purpose of the events that take place for 14 years, remains the same – they learn to follow safety rules in everyday life and in extreme circumstances. Young children are taught the ways of survival in difficult conditions, providing medical assistance to victims. Participating in competitions of young rescuers actively compete, exchange experiences, learn to interact with each other and the environment. The theoretical knowledge acquired during training is fixed with practical skills, so that participants get a truly invaluable experience.
Guests attending the opening ceremony were able to visit the exhibition of fire equipment, which was attended by both to rare and cutting-edge equipment used by modern specialists in the rescue efforts. On the territory of the memorial complex was working a field kitchen.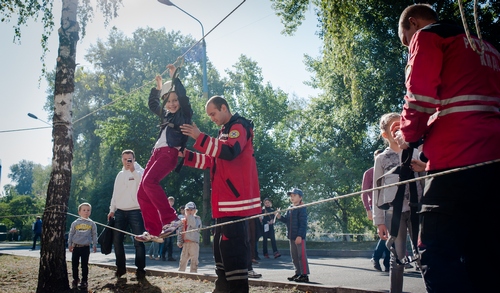 Date of publication:
29.07.2017
Contact information
+7 (495) 849-24-74
Moscow, Shchelkovskoe shosse, 5, p. 1, office 622